Travertine Floor in Cozy Denver Home Gets Honed and Polished Back to Beauty
April 21, 2015
Although the majestic, snow-blanketed landscape of Denver is a top reason many of our customers love living here, the local weather conditions can be hard to handle at times. This is especially true when it comes to the hard surfaces in our customers' homes. For example, the worse the weather, the more salt that gets used and the more opportunity for this corrosive substance to wreak havoc on homes when it gets tracked inside. For families with pets this is even more problematic since a pet's paws, which are already known to cause damage on most floor types, track in even more unwanted dirt and debris from the outside. As a result, it's not hard to see why keeping the floors of a Denver home in good shape can be difficult.
Recently, we received a phone call from a customer who had been dealing with issues similar to these. Over time, these conditions had caused his travertine floor to lose its luster, so he was seeking a
Denver stone honing
and polishing company that could make it look just like new again. After speaking with us, he knew Sir Grout of Denver was the right company for the job and he scheduled an appointment for us to come by later that week.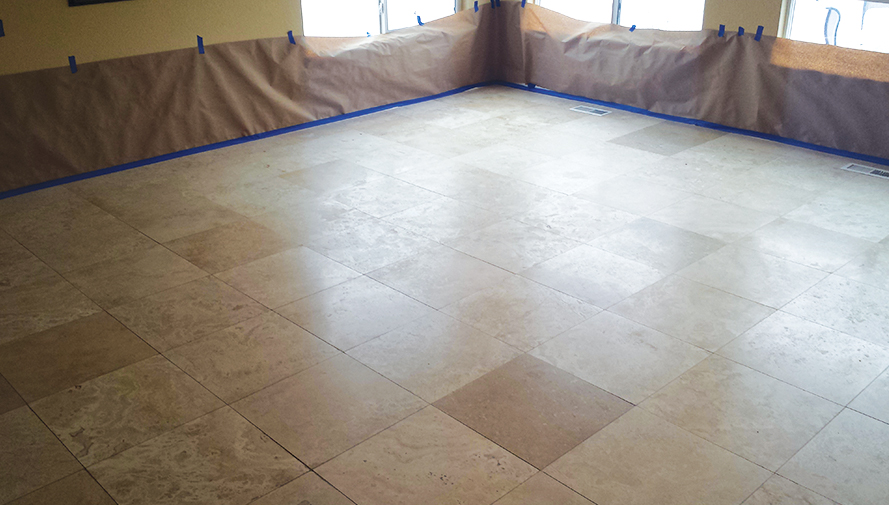 When our technician arrived at his home, the customer invited him in and walked him over to the area in need of Sir Grout of Denver's services. He carefully analyzed the travertine floor and the severity of its damage so that he'd know which tools to bring when he returned the next time.
A few days later, our technician drove through the snowy streets of Denver, parked outside the customer's cozy Colorado home, and thought to himself how glad he was to be spending the day inside helping a customer rather than outside in the 20+ inches of snow.
Now it was time to get to work. The technician began by using fine diamond abrasives to hone the travertine and remove any existing surface damage. By putting sufficient time into this step, the stone would ultimately display a deeper clarity and a brighter shine. After making the stone floor as smooth as possible, the technician could now properly polish it in order to restore its beautiful glossy look.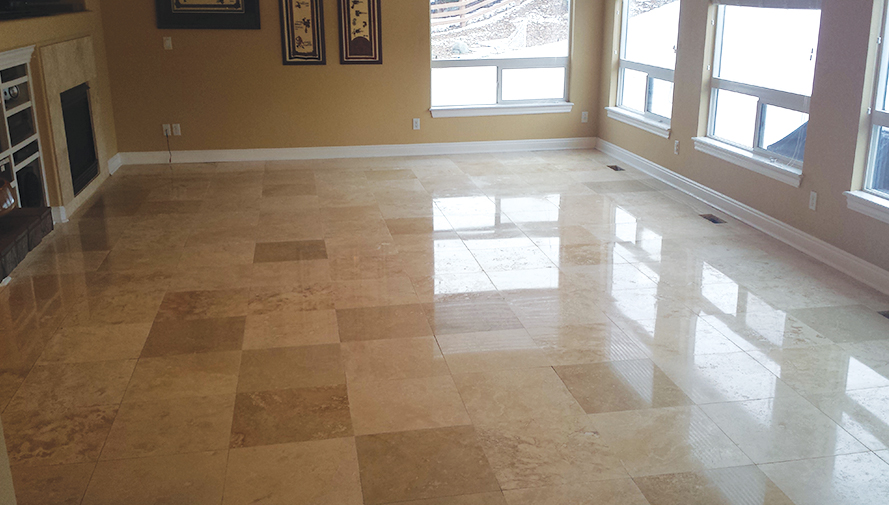 The process was now nearing its end, though it wasn't over just yet. The purpose of the final step, sealing the stone, would be to help keep the freshly honed and polished floor looking beautiful for longer by providing it with a protective barrier against dirt and spills. To seal the floor, the technician applied a high quality sealer to the travertine and allowed ample time for it to penetrate the stone's porous composition.
The project had now reached its end and it was time to have the customer come in and take a look. Upon seeing his travertine floor, which was once again gleaming, the customer smiled and expressed his gratitude. He never thought he'd see his floor looking so bright and shiny again. Our work here was done and it was time for the technician to take off, but not until he cleaned off the piles of snow that now buried his car (see picture below).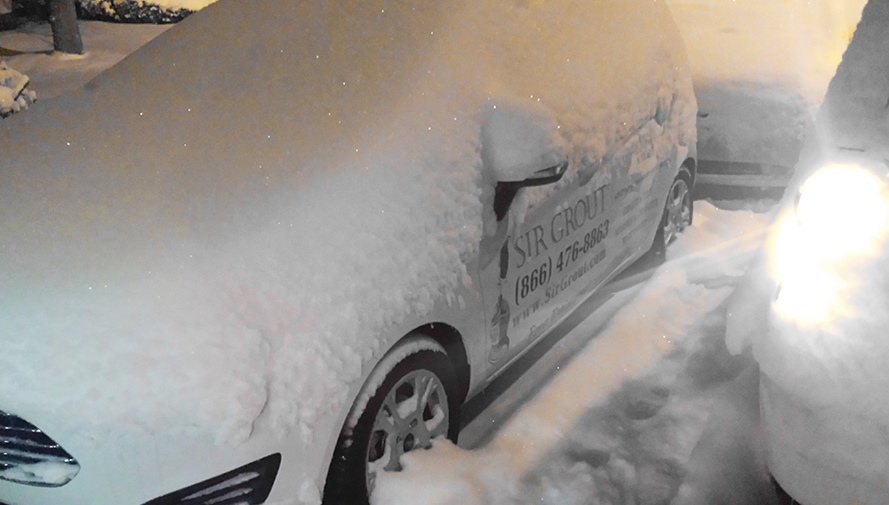 Sir Grout of Denver always takes pride in doing a job well done. However, while seeing the smiles on our customers' faces is motivation enough, it never hurts to have our customers go a step further in showing their appreciation and, in this case, the customer gave us a special tip (shown below) – farm fresh eggs!