One Tile Cleaning Job Helped Close the Deal on this Aurora, CO Realtor's Stubborn Home Listing
September 09, 2015
A little cleaning can go a long way. Ms. Dupree, a highly successful Denver area realtor, was trying to sell a home that was giving her problems. The listing drew many visitors, but she just wasn't able to close the deal. The beautiful, two-story Aurora home was perfect for a family, featuring a large open kitchen, but the 250 square feet of nice tile floor in the kitchen and dining room looked like it had never seen so much as a broom in the last 20 years. Ms. Dupree tried cleaning the floor herself, but the floor still looked dull and the dark, dirty grout gave it an overall soiled look. She looked for an
Aurora tile cleaning
company, and gave Sir Grout of Denver a call. Sir Grout offered her a free evaluation! This was perfect for her situation. What if the tile needed to be replaced? That would be way too expensive an upgrade for her to make just to sell the home. She booked an appointment immediately and crossed her fingers, hoping that remodeling would not be necessary.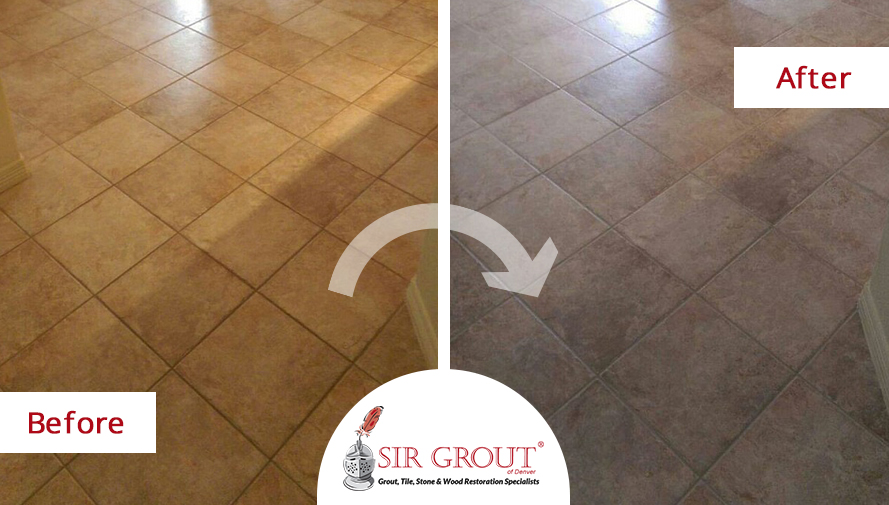 Denver and the surrounding areas tend to refer to the seasons as "July, August, and winter". Lots of snowfall plus sunny days mean that indoor activities are a must. The severe weather has big consequences for hard floor surfaces: all the moisture, salt from the streets, and dirt can dry out, crack, and stain both grout and tile. When grout ages, one of the biggest problems is dirty, weathered, ugly grout lines. Ms. Dupree hoped the damage was not permanent – she wanted to make the floor as presentable as the rest of the home!
When it was time for the evaluation, Sir Grout's tile and grout inspection team came to the home to discover just how bad the damage was. The grout lines appeared to be stained from dirt. The tile itself was extremely dull and mottled. They examined the floors and, luckily for Ms. Dupree, decided that the floors would respond well to a deep tile and grout cleaning.
The team turned to a non-toxic, pH neutral cleaner to help lift the stain, and applied it with a high-speed, gentle scrubber to make sure all the dirt that could be removed would come off easily. On the toughest stains, they used vapor steam cleaning to avoid damaging the tile and grout. This gentle yet deep treatment made the floor look brand new, and the (now many shades lighter) grout and tile came together perfectly, making the kitchen look pristine. Check out the amazing results!
Just fixing the problem was not the end of the job. To guarantee the floor stayed clean, they applied Sir Grout's Tile Armor, a sealant that protects and shields tiles from traffic, dirt, stains, and spills. The non-toxic service was complete, and the home was ready for what Ms. Dupree hoped would be its final open house.
At Sir Grout of Denver, we are proud to bring out the natural beauty of weathered stone and tile. We care about results, making sure that Ms. Dupree and every customer we serve, gets the best result and long-lasting treatments.
"They just did our floor, it looks wonderful!" Ms. Dupree's voicemail said it all. She was excited with the result, and the low cost of the cleaning enabled her to take potential buyers to the home with a newfound confidence. "I want you to know how much we appreciate it."
Customers like Ms. Dupree can enjoy affordable tile and grout cleaning services, which often uncover a brand new look on old, dirty tile. Upkeep is important to keep both tile and grout in good condition.
If your floor constantly looks dirty, no matter what you use to clean it, it may be time for a deep tile cleaning. Try Aurora's local tile and grout cleaning service – Sir Grout of Denver. Fill out the form below to contact Sir Grout for a free evaluation today!